Workshops
  "Your work is moving and inspiring.  I'm so grateful for your talents and willingness to share of yourself.  You brighten the world."  Denise- Northern California   "I just wanted to tell you how much I enjoyed your workshop yesterday.  You made it so comfortable and I was not intimidated as I have been in past art workshops"  Sherree Hill-Nevada City, CA   "Your teaching style and patience were greatly appreciated"  Lisa V. -McKinleyville, CA   "Really loved your class!  Thanks so much!  Shauna Smith-Auburn, CA  
I have taught numerous art workshops to all ages throughout the years. I truly enjoy sharing the excitement of dying silk and painting silk with others. I offer a variety of workshops and experiences.
Please check the website "Events" page for a schedule of upcoming workshops.   This page describes the workshops in greater detail.  If you or your group are interested in having a workshop in your area, please contact me to discuss arrangements.
If you would like receive emails about future workshops, use this link – subscribe.
You can contact me directly about these workshops by using the contact form at the bottom left of the page.  You may also call me at 530-362-8624.
---
---
---
Dying Silk for Quilters and Textile Artists
This workshop is an introduction to the new "Colorhue dyes" that are instant set dyes, and do not require any steaming, ironing, or chemical setting.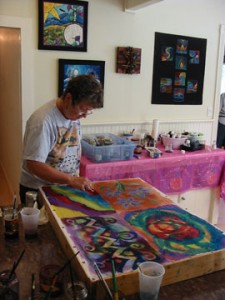 Fantastic colors and over-dying effects can be created. We will work with simple techniques (scrunching, folding, binding) and some more advanced shibori like techniques. These dyes also work on wool and rayon. All materials are provided. Colorhue dyes are an excellent choice for art quilters who want to quickly dye their own silk fabric for use in their art creations.
Workshop 2.5 – 3 hours
all materials included
12-15 students
Introduction to Painting on Silk with Dyes and Resists
Beginning and Intermediate Classes available
This workshop is an introduction to painting on silk using French Dyes that are bold, vibrant, flowing dyes that are super fun and easy to work with.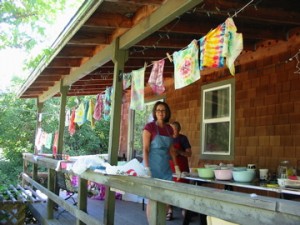 Using resist and watercolor painting techniques, we will have fun designing and creating images on silk. Whether creating silk scarves, wall-hangings, or fabric for home décor or art quilts, this workshop will leave you inspired as you merge your love of painting, color, and fabric (silk) to create luminous beauty of your own. The full process will be explored in this workshop including how to lay-out designs and resist, using materials like salt and alcohol to create special effects, the process of steam-setting the dye, final washing and drying. Karel has been painting on silk for 15 years and enjoys sharing this rare and fun medium with others.
Workshop is 4 hours
all materials included
12 students maximum
Creating Luminous Landscapes with Silk
Create a beautiful landscape collage or art quilt with this workshop using hand-dyed silk
and fusing a variety of fabrics to assemble a vivid scene. The workshop will begin with an introduction to dying silk with Colorhue dyes, to create the background (sky, water, foliage etc.) Using your own dyed silk, you will be guided on how to best use the colors in the silk to create a landscape, a vanishing point, a source of light, and directional shadows. From there, layering silks, fabrics, and other fiber on top and fusing it together to create a collage landscape. Finish with painting highlights, shadows, details, and texture in last to give the landscape depth and dimension. The finished product is a fused collage that can be framed as is or quilted to add more texture, design, and detail.
Workshop is 5 hours
all materials included
12 students maximum
Silk Painting With Children
Karel has taught private lessons in homes and at public places such as churches, schools,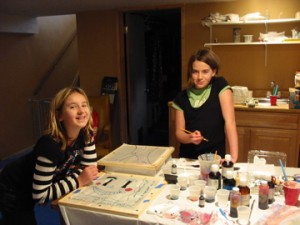 and camps. Children learn about silk, where it comes from, and how it is made. Then they get to paint the silk and create special effects with salt, rubbing alcohol, and sugar. They can work together on a community banner or do their own individual painting. The collaborative projects help them work together and interact and learn from each other. Silk-painting is a little like coloring in a coloring book, but with watercolor brushes and dyes instead. It is accessible and enjoyable for all ages. The dyes are non-toxic and safe for children.